Marita Doerning Establishes Estate Provision in Appreciation for Loras Education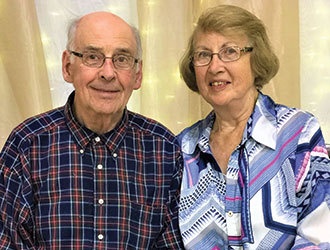 Marita (Marty) Doerning (MA '98) and her late husband Robert "Bob" Doerning ('60) both earned degrees from Loras College, as did daughter Regina Zlomke ('95). In gratitude for the education that "shaped our lives and family," Marty has established an estate provision to support Loras students.
"I chose this gift because God has been very generous with our family, and it is my desire to help more young people avail themselves of the opportunity for a Catholic education at Loras," Marty says, who for many years has been the liturgy and music director at St. Thomas Aquinas in Webster City, Iowa.
Bob and Marty both grew up in Emmetsburg, Iowa, and were high school sweethearts. Bob was initially led to Loras by his uncle Robert Brady ('48), a Loras professor of history. After graduating from Loras, Bob taught English for three years at Columbus High School in Waterloo, Iowa, and for 38 years at Webster City High School, where he also directed plays and taught speech. "He had a great love for English literature and Shakespeare instilled in him by Father Karl Schroeder ('30). He was a tremendous influence on Bob. We traveled many times to England with students, and our three children grew up in a home where education and learning was a priority," Marty says.
Marty earned a master of ministry degree from Loras in 1998, greatly inspired by faculty advisor Father Doug Wathier ('78). She has worked as a liturgy and music director at several churches, taught piano, and served as a pianist and organist.
"My role in parish life has been an amazing call to use the talents that God gave to me, and the graduate program at Loras prepared me well for parish work," Marty says.
Marty's daughter Regina earned a bachelor's degree in psychology in 1995 and also credits many faculty members for her career as a health care social worker. Marty has two other children, Maribeth and Jeffrey, three grandchildren, and one great-grandchild. Bob and Marty were married for 57 years before he passed away in 2018.
"Loras was so dear to Bob's heart. We all loved our Loras experience and are proud to be alumni," Marty shared. "The education that we received shaped, and continues to shape, our lives and the life of our family. A Loras education prepares the whole person for a lifelong commitment to service and living a life of faith. I wish that the students who benefit from our gift will also have a Loras experience that prepares them for living their values and, in turn, passing on to others that indelible mark that Loras leaves."
Marty also encourages others to support the College. "Loras fosters an atmosphere that challenges young people to learn, find themselves, and to grow in their faith. It's important for alumni to support them in their endeavors so that they can go out and share the enormous blessing they will receive as a result of learning at Loras. It is a challenging world today, and I can't think of a better place to make this financial investment."
Back
© Pentera, Inc. Planned giving content. All rights reserved.