Tom and Nancy Donnelly Establish Scholarship in Thanks for "Lifetime of Benefits" Received from Loras College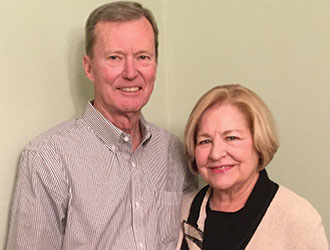 Cedar Rapids, Iowa, natives Tom ('69) and Nancy Donnelly met as high school seniors and will celebrate their 50th anniversary this June. Tom received his BA in business administration from Loras in 1969 and enjoyed a 40-year career in the insurance and reinsurance industries.
"I wanted to attend a smaller school that was within a reasonable distance of Cedar Rapids," Tom says. "I grew up hearing about Loras and visited the campus numerous times. My dad attended Loras, and Bishop Loras Lane, a past president of Loras, was a relative. I never really considered any other school, which was one of my better life decisions."
In thanks for his Loras education that prepared him well for a successful and rewarding career, Tom and Nancy have made a series of IRA charitable rollover gifts to establish The Thomas C. and Nancy E. Donnelly Scholarship to support students with financial need from the Cedar Rapids and Linn County, Iowa, area who might not otherwise have the opportunity to attend Loras.
"The liberal arts education I gained was invaluable and exposed me to subjects I might have otherwise bypassed," Tom says. "Meeting and getting to know fellow students from other areas of the country and their life experiences prepared me to work with people of all backgrounds and opinions. The theology and philosophy courses have served me well throughout my life."
The Donnellys believe that it is becoming increasingly difficult for small private schools not just to survive but to thrive. "I was blessed to attend Loras," Tom says. "I owe a great deal of what continues to be a very good life to my years there. The education and the values I learned have served my family and me well. Nancy and I hope Loras will continue to have the necessary support from friends and alumni to continue its mission of providing a Catholic liberal arts education to those who desire it."
Some of Tom's favorite memories of his time at Loras include attending basketball games, watching the baseball team on Faber field, and playing intramural sports. "Nancy and I wanted to repay, in some small way, what our family has because of Loras," Tom concludes. "I was there for four years but have received a lifetime of benefits. We are thankful that we're in a position to give back to Loras and be part of helping future Duhawks."
Back
© Pentera, Inc. Planned giving content. All rights reserved.