Parent Elizabeth Nelson Supports Loras in Appreciation for Her Son's Excellent Education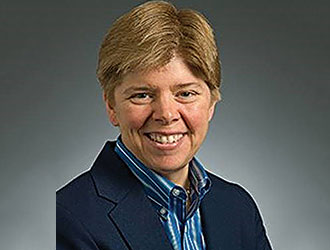 Elizabeth "Libby" Nelson could not be more proud of her son's achievements at Loras College. She also could not be more grateful to Loras for providing him with so many opportunities for success. "The programs at Loras have allowed him to blossom as a young man with great intellectual capacity," she says, "despite his ADHD getting in his way from time to time."
Inspired by all of her son's positive experiences at Loras, Libby first began giving to the college when she was called by a "very industrious first-year student during a phonathon. It was a good call," she says, "and I made my first gift to Loras then. I have increased my support as my son continues to have success at Loras, which I attribute to the professors in the history and English departments and his advisors in the Lynch Learning Resource Center."
Libby makes her gifts with cash because "outright support is the greatest need," she says. "It is the easiest way to give, and it can make an immediate impact. I want my gifts to be used where the need is greatest. Whether my gifts are used for capital programs or operations, I just want Loras to be successful so that other parents have the opportunity to send their children to Loras."
Libby received her AB cum laude from Washington University St. Louis and her JD from Drake Law School. The Iowa native currently serves as the vice president and general counsel for Kemin Industries, Inc. "I have practiced law in Wisconsin and Iowa. I love the daily challenge," she says. "Every day I deal with issues that involve food, feed, technology, international transactions, intellectual property, mergers and acquisitions, and all of the other challenges of running a family-owned company with a global footprint.
"Loras gives students who need a bit of help a chance to be successful," Libby continues. "I am delighted with the education my son is receiving at Loras. He is studying history with more rigor than the history department at my alma mater. I have learned new things from his classes and his discussions with me."
When asked what she might say to others considering making a gift to the college, Libby says, "Loras provides excellent educational opportunities to all types of students. It recognizes the worth and value of each student and provides opportunities for students who learn differently that other colleges and universities do not."
Back
© Pentera, Inc. Planned giving content. All rights reserved.