Dr. Peter Smyth Makes Gift of Appreciated Stock in Gratitude for His "Great Career"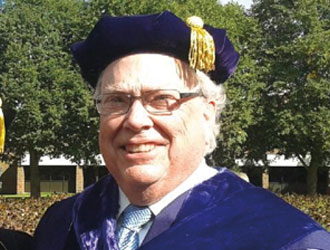 Peter Smyth, MD ('68), grew up in Lester Prairie, Minnesota—the oldest of seven children. His father, John J. Smyth, MD ('41) established a medical practice there in 1948. Following in his father's footsteps, Peter received his BS in chemistry in 1968. While at Loras, he met his wife Barbara who was attending Clarke College. Peter went on to graduate from medical school at the University of Minnesota before embarking on a 34-year career practicing internal medicine in Glencoe, Minnesota.
With gratitude for the education he received, Peter has given a gift of appreciated stock in support of his 50th class reunion this fall. His gift is part of a Class of 1968 fundraising initiative to renovate the entrance and foyer of Keane Hall.
"Loras is special to me," says Peter, who chose Loras because of its excellent reputation and Catholic affiliation. "My education, and the opportunities afforded to me while attending Loras, led me to a great career and a great life—and I am grateful for that."
Peter says he chose to make a gift of stock to Loras because of the convenience and for the tax benefit. By giving appreciated securities, he receives a tax deduction for the full fair-market value of the stock and avoids tax on the capital gain.
During his distinguished career Peter says he worked "to help my patients understand the connection between caring for themselves, getting regular check-ups, and having a healthy lifestyle. I felt drawn to care for the elderly, who have distinct needs—much different from those of younger patients."
Since retiring in 2016, he and Barbara enjoy traveling, attending University of Minnesota football games, and spending time with their three children and nine grandchildren. Peter is a volunteer for the Minnesota State Historical Society and gives tours of the state capitol building in Saint Paul. He also reads for Radio for the Blind and is a member of the Glencoe Rotary. He encourages other alumni to consider what Loras means to them and how they can support future generations of Duhawks.
Back
© Pentera, Inc. Planned giving content. All rights reserved.