Dr. Robert and Judy Tucker Give Back to Loras in Gratitude for All the Opportunities They Received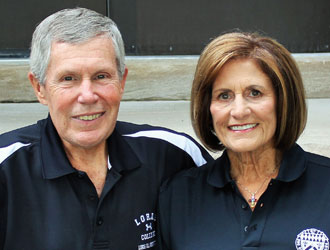 Robert Tucker, Ed.D., began his career at Loras College in 1981 as an associate professor of physical education. During his tenure, he held several positions—including men's and women's head track and field coach, assistant football coach, and chair of the department of physical education. However, the role he is most proud of: founder and director of the Loras College All-Sports Camp.
In 1982 Bob and his spouse Judy, who is a certified K-12 counselor, founded the camp. They envisioned an environment where female and male campers ages 8 to 14 could hone their athletic skills and develop Christian values and citizenship.
"During my 36 years at Loras I have had many opportunities to develop professionally, personally, and spiritually," Bob says. "I have been privileged to teach and coach young adults at the college level as well as impact the lives of many children through the Loras All-Sports Camp," which has grown from two one-week sessions to four one-week sessions and from 185 original campers to nearly 2,500 today.
"The All-Sports Camp is a program that I hope will continue to be a benefit to Loras College in many ways as well as to the campers, counselors, and staff for years to come," Bob says. The camp has mentored more than 50,000 children to date and has grown from offering ten core sports to more than 40 majors and minors, including everything from the traditional soccer, basketball, baseball, and track and field to modern archery, horseback riding, trapshooting, and ultimate Frisbee.
Bob and Judy—who served as associate director of the camp—retired at the end of 2015. "In retirement, we are spending more time with family and traveling—besides to camp fairs—and of course, we remain available to help where we are needed with the ministry of the All-Sports Camp," Bob says.
Seeing an unmet need, this past spring Bob and Judy provided a lead and matching challenge gift of $100,000 to renovate and reconstruct five on-campus doubles tennis courts. The Tuckers were honored and recognized for their contribution during a dedication ceremony held in September.
In October 2017, Bob was the recipient of a Loras Distinguished Alumni Award for his nearly seven decades of combined service to the College, the students, and the campers.
"Judy and I appreciate everything that Loras has done for us," Bob concludes. "Loras has been good to us and our family throughout our time there. In our early career, people helped us when we had nothing, and we want to give back to organizations that gave us opportunities."
Back
© Pentera, Inc. Planned giving content. All rights reserved.