Retired Air Force Pilot Tom Kemp ('64) Establishes a Scholarship to Support Local Students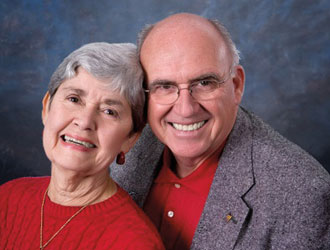 Thomas J. Kemp ('64), who flew jets in the Air Force for 20 years, was a local student who worked his way through Loras College and couldn't afford to live on campus. Now he and his wife Ruth are establishing a scholarship for students in similar circumstances.
"As a student, I lived at home on a farm, attended college, and worked evenings to pay all my college expenses since my parents could not afford to assist me," recalls Tom, who lived just five miles from campus in Key West. "This was a very tough schedule, and I want to provide some help to future Loras students who live at home and commute to campus."
Tom earned his bachelor's degree in accounting, and the Thomas and Ruth Kemp Endowed Scholarship will give preference to a local day student pursuing a degree in accounting. The Kemps have established a five-year pledge to endow the scholarship, taking advantage of the charitable IRA rollover to make the annual payments.
Tom graduated in June 1964, married Ruth that August, and left for the Air Force in September. He spent three years as a navigator and then went to pilot training and flew combat missions over Laos and Vietnam. Along the way he earned a master's degree in systems management from St. Mary's University in San Antonio, Texas. His career took him to every continent but Antarctica, and he progressed in rank to become the wing director of training and also the director of plans, scheduling and training for the site activation team during the integration of a new weapons system (the cruise missile).
"As an accounting major, one of the most valuable things I learned at Loras was the importance of 'attention to detail,' "Tom says. "It was a critical skill set I used every day flying airplanes. In addition, the Christian values that I learned at Loras shaped the way I have lived my life during my working career as well as today."
Married for 52 years, the Kemps live in a Catholic retirement community outside Fort Worth, Texas, and have four children, six grandchildren, and three great-grandchildren. Tom had always made small donations to Loras over the years but says that returning to campus for his 40th, 45th, and 50th reunions "created the spark for making a larger gift."
"I believe that everyone should give back to those organizations that have shaped their lives," Tom says. "It may not come in the first few years after graduation, when you are trying to build a career and maybe raise a family, but it is essential to have a starting point. If you start giving early—even a small amount—it becomes a part of your lifestyle and will offer future generations an opportunity they may not otherwise have."
Tom said that an additional motivation to support Loras was the untimely loss of their oldest daughter, Jennifer, in 2007.
"The outpouring from our friends and her friends made us realize that we have much to share," Tom says. "Her friends and our family established a charitable foundation to support many of the things that were important to her. We now see the results of the scholarships in her name. We decided to not wait until after we had passed on to provide some of the same benefits to others. Loras molded my life, and I wish to pass that opportunity on to future students and generations."
Back
© Pentera, Inc. Planned giving content. All rights reserved.