Former Congressman Mike Blouin Creates Estate-Plan Gift for 50th Reunion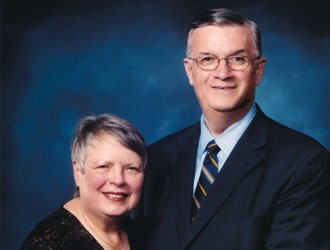 Mike Blouin ('66), a political science major who went on to represent Iowa in Congress, recently modified his estate plan to add a gift in his will to support the Class of 1966 Scholarship, in honor of his 50th class reunion.
"Loras means a great deal to me," says Blouin, who lived and worked in Iowa for most of his adult life, moving to Naples, Florida, four years ago. "The faculty always challenged and pushed me; they truly care about their students."
After graduation, Mike remained in Dubuque to teach elementary school and then served in the Iowa House of Representatives and Senate. In 1974, he was elected to the U.S. House and served two terms.
In 2006, he became a candidate for the Democratic nomination for Governor. For his public service, he was named a Distinguished Alumni by Loras. Loyal to the Catholic faith, he has been a church deacon for 30 years.
Mike was married for 48 years to his wife Suzanne, who died in 2016 from complications from Alzheimer's disease. Mike has twin daughters, one of whom graduated from Loras. Suzanne also took courses at the college in pursuit of a master's degree.
"My Loras educational experience is still shaping my life," Mike says. "I strongly believe that life should not be about keeping, but helping others and giving back. I feel that I owe it to Loras to help future students receive a college education and be successful."
Back
© Pentera, Inc. Planned giving content. All rights reserved.