Legacy Gift Lives Through Students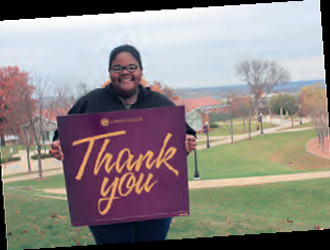 By Samantha-Anne Schmidt ('16)
Establishing a planned gift for Loras College is a meaningful, effective, and simple way to support our students; and its impact can be felt throughout campus for years to come. The late Miss Mary Aimee Ernsdorff generously gifted her home to Loras College through an estate provision, and in October 1975 the Mr. and Mrs. J.E. Ernsdorff and Family Scholarship Fund was established with the proceeds from the sale of her home.
In the many years since her initial gift, the scholarship has been added to by friends and family—including an additional planned gift from her late brother, the Reverend Louis E. Ernsdorff ('32), who taught mathematics at Loras from 1944 to 1969 and was the athletic director from 1950 to 1960. From the initial investment in 1975, the Ernsdorff Family Scholarship Fund continues to grow and has provided numerous deserving Loras students the support they need to be successful.
Scholarships help ease the financial burden of college and—for many students—make attending Loras College a possibility. One student who has benefited from the financial support of scholarships is Jessica Douglas ('16). Jessica is a public relations and media studies major from Chicago, Illinois. She is involved with several groups around campus, including Alpha Sigma Alpha sorority, the Black Student Union, and PR Solutions.
When asked about her Loras College experience, Jessica states, "I am really glad that I chose this place to call a second home. Loras has the small-school feel that I was looking for in a college. I did not know what I wanted to study before going to college, but coming to Loras has given me the ability to explore many different offerings."
Because of the generous support of the Ernsdorff family, Loras alumni, and friends, Jessica is able to receive an outstanding faith-centered liberal arts education while participating in numerous organizations across campus. Without the Ernsdorff Family Scholarship, Jessica shared that it would have been very difficult for her to return to Loras after her freshman year.
"It's very likely that I would have had to attend community college back home. I'm from an area where you're not supposed to amount to anything—failure is expected. With alumni support, my Loras education has exceeded my expectations. There are not enough thank yous in the world to show my appreciation."
Loras College is strengthened by your generosity, and your gift makes a difference. Working together with other alumni and friends, your support provides opportunities that advance academic programs and enables our students to learn and grow within a Catholic intellectual tradition.
For many of our students a Loras education would not be financially possible without gifts from you. When creating a lasting legacy at Loras, there are many giving options available to you. How do you know which method of support is right for you? To make a charitable gift that best meets your aspirations and supports Loras for years to come, you need a plan—and we're here to help!
Back
© Pentera, Inc. Planned giving content. All rights reserved.